Executive Director, Senior Consultant and Project Manager _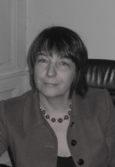 Fields of Competence
Strategy and Development – development strategy, partnership building, market researches, accompanying in negotiations and acquisitions, assisting companies in their regional development, lobbying and executive staff coaching

Human Resources – conceiving and conducting business seminars for executive staff


Professional Experience
Marina Khvatova has gained considerable experience of project management in Russia while working in Saint Petersburg City Hall in the department of External Relations headed by Vladimir Putin and a vice-mayor of Saint Petersburg Anatoly Sobtchak (1988-1993).

Marina has been living and working in France since 1993. After graduating from the ENA (National School of Administration) in Paris, she was working as a senior consultant in strategy and cross-cultural management in a Franco-American consultancy firm.

In 1997 Marina created ALEST, a consultancy firm, with an aim to accompany Western Companies and especially French ones on the markets of ex-USSR countries. She interferes in different projects such as regional market researches, negotiations, supporting commercial decisions, putting French companies and establishments in touch with Russian ones (the State Duma, Federal Council, Russian President Administration, Moscow and Saint-Petersburg Governments).

Five years ago Marina André-Khvatova developed a new activity in ALEST: consulting in human resources aimed at Russian teams of French subsidiaries. She conceives long-term projects and builds successful company strategies, which later are divided into company projects or regional development.

Marina has been accompanying such clients as Auchan, Danone, Thales, Carrefour, Vinci, and Leroy Merlin for many years now in their development in Russia. She conducts conferences about Russia and the Ukraine in different Universities (IAE in Nancy, Rennes University) and trains junior consultants at ALEST.


Education
Marina André-Khvatova graduated from Leningrad State University (Philological Department specialised in literature and Roman languages). Then, she obtained a Doctorate degree in Linguistics at the same University. In 1994 after following a Master course, Marina got a diploma at the ENA (National School of Administration) in Paris.


Specialization:


Market researches in the fields of retail, energy, regional development and environment


Creating and conceiving companies' projects


Creating and conducting business seminars for executives and top-managers


Individual executives' consulting


Cross cultural management


Conferences on Russia and Eastern European Countries


Her Clients


Vinci Construction Grands Projets


Veolia Environnement


Electricité de France


Gaz de France


Auchan Russia


Leroy Merlin and Leroy Merlin Vostok


EADS Telecom


Alcatel


Mauboussin


L'Oréal and Produits Beauté International


Yves Rocher


Carrefour


Eutelsat


Danone


Lafarge


Solvay


Panavi


Laboratoires Servier Industries


Thales ATM, Thales International,


Thales Université


Renault


PSA Peugeot-Citroën